Would you like to discover the natural environment where our wines are born?
It's essential to know what you have and what you want it you become
Theory is important, but this is a job you learn by doing. Constant contact with the vine is the key to get the best raw material.
From the earth, the fruit
From the fruit, Clos Montblanc
From 15 grape varieties, we've created an extensive collection of wines with a wide range of nuances and characteristics to satisfy every kind of client.
Our Values
Our clients' satisfaction is our main priority.
We establish a professional relationship based on attention, trust and the quality of our service.
Oenology is the science, technique and art of making wine.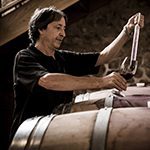 "If any philosophy exists in the world of wine, it's acting when the moment is right. Not too early, not too late: all in its own time."